John was born in Cheboygan, Michigan, in the winter of 1938, during a snowstorm. He spent his early childhood and summers there.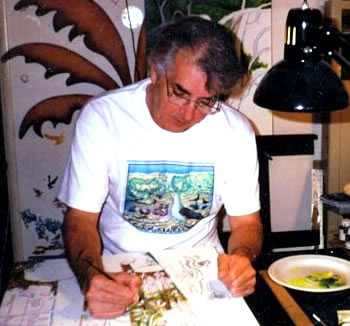 After a hitch in the navy as a photographer's mate, he studied at the Brooks Institute of Photography in Santa Barbara and for the next 10 years worked as a commercial illustrator in Michigan and California.
While his early photographs show seeds of experimentation in multiple and distorted imagery, it was in the late '60s in San Francisco when he focused his attention on stereo imagery...unlocking the doors of his visual perception.
He explored his fascination with space and dimension in painting, freeing his imagination from the confines of the camera.
And it was in the early 80s when his first Amiga computer opened his eyes to the digital world and the power of the pixel and giving him a perfect medium as his strength ebbed.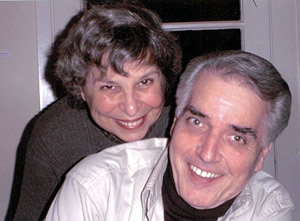 When I first met John, he was a photographer at the art and photographic studio in Saginaw, Michigan, where we both worked.
Whether taking pictures of Buicks on assembly lines or buckets of Dow Chemical fire retardants, there was something exceptional about his work. He had an innate understanding of how light reflected and how it created form and how it defined space.
It was the late sixties and California beckoned. John had studied at Brooks and always wanted to go back to the West Coast.
So off we went in our Volkswagon squareback – cameras, clothes, dark-room equipment spilling out the windows, beginning an amazing 40-year journey from Harrison Street in San Francisco to the little church in the Wildwood Valley...recorded in the art he created.
It is my pleasure to share the legacy.
Mary Galle Pierce